What is a 4G SIM Card?
August 02, 2017
Brian Nash
Technology, Cellular, Internet, Media
A SIM Card is a small "smartcard" that is inserted into a 4G Device. The 4G SIM Card contains the subscriber profile, which includes detailed information that the device needs in order to work on the Wireless network. The 4G subscriber profile includes: International Mobile Subscriber Identity (IMSI), which is used for billing details The 4G Service Feature Set, which contains details about the subscribed services and features Security authentication and ciphering information Access to passwords to lock and unlock the SIM, including the Personal Identification Number (PIN) and the Personal Unblocking Key (PUK) codes
Sim Card Sizes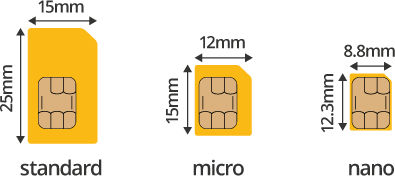 Standard:
25mm by 15mm
Micro:
15mm by 12mm
Nano:
12.3mm by 8.8mm
ICCID
Each SIM is internationally identified by its integrated circuit card identifier. ICCIDs are stored in the SIM cards and are also printed on the SIM card. Most Sim Card ICCIDs are 20 digits long.